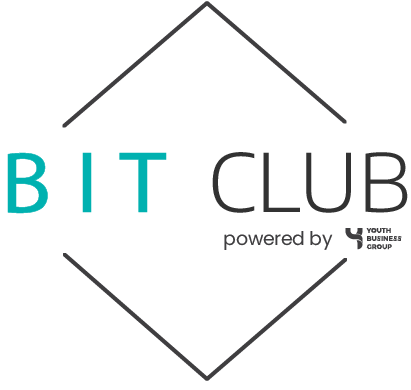 In today's economy, it is essential for every company to have a workforce that can understand economic processes and link them to the opportunities offered by IT. The Business IT Club Franchise represents the next generation of professionals who are eager to go one step further. Through our professional training system, our members learn about the world of business IT and have the opportunity to deepen their knowledge in various areas.
Our mission is to create a close-knit community for the most ambitious and motivated students interested in Business IT, and to provide them with up-to-date professional knowledge and experience, as well as career prospects beyond their university studies.
Most of our members are students of business informatics, but anyone who would like to learn more about the world of business informatics, who can identify with the goals of the organization and who would like to play an active role in achieving them, are more than welcome to join.
One of the cornerstones of our work is cooperation with corporate partners – in recent years we have developed partnerships with major companies such as ExxonMobil, E.ON, OTP Bank, Budapest Bank, PwC, EY and Vodafone. Together with our partners, we work to provide our members with insights into different areas of Business IT, especially Business Intelligence (BI) and IT Consulting, through high quality courses, workshops and hands-on projects.

Another key element of personal development is the value-added activity within the organization. Our members are developing the organization's strategy in a self-organizing way, managing and leading projects, and ensuring that functions such as HR, Marketing and Partner Relations are supporting the work of the organization.
The Talent Program of BIT Club
( 1 level = 1 semester )
The Talent Program gives you an insight into the three major areas of the business IT careers – Business Intelligence (BI), Software Development and IT Consulting. By the end of the program, you'll have a deeper understanding of your chosen field, so you can start your career with more confidence.
Basics of organizational functioning
Company visits:
Learn about the 3 career paths  
Quests:
Getting to know the basic workings of the organization  
Community building  
Mentoring program
Career path selection

Business Intelligence:
Introduction to BI systems, ETL and SQL  
IT Consulting:
Basics of IT Consulting, Soft skill trainings, Project management  
Software Development:
Basics of OOP, Mastering the "programming logic", Basics of algorithms  
Courses according to your preference
Business Intelligence:
Modeling, Data Visualization, Database systems  
IT Consulting:
Client Interview, Benchmarking, Market Research  
Software Development:
Collaboration, Scrum, Version control  
Preparation for your career
Business Intelligence:
Decision Support, Reporting Systems, Data Visualization  
IT Consulting:
Business Plan Implementation, Measuring Efficiency  
Software Development:
Writing clean, easy-to-read code, Code refactoring  
Would you like to know more?
Visit our organizations' platforms!